Product Spotlight: Butterfly Tear Collector Card (Unexpected Loss, Grieving, Miscarriage…)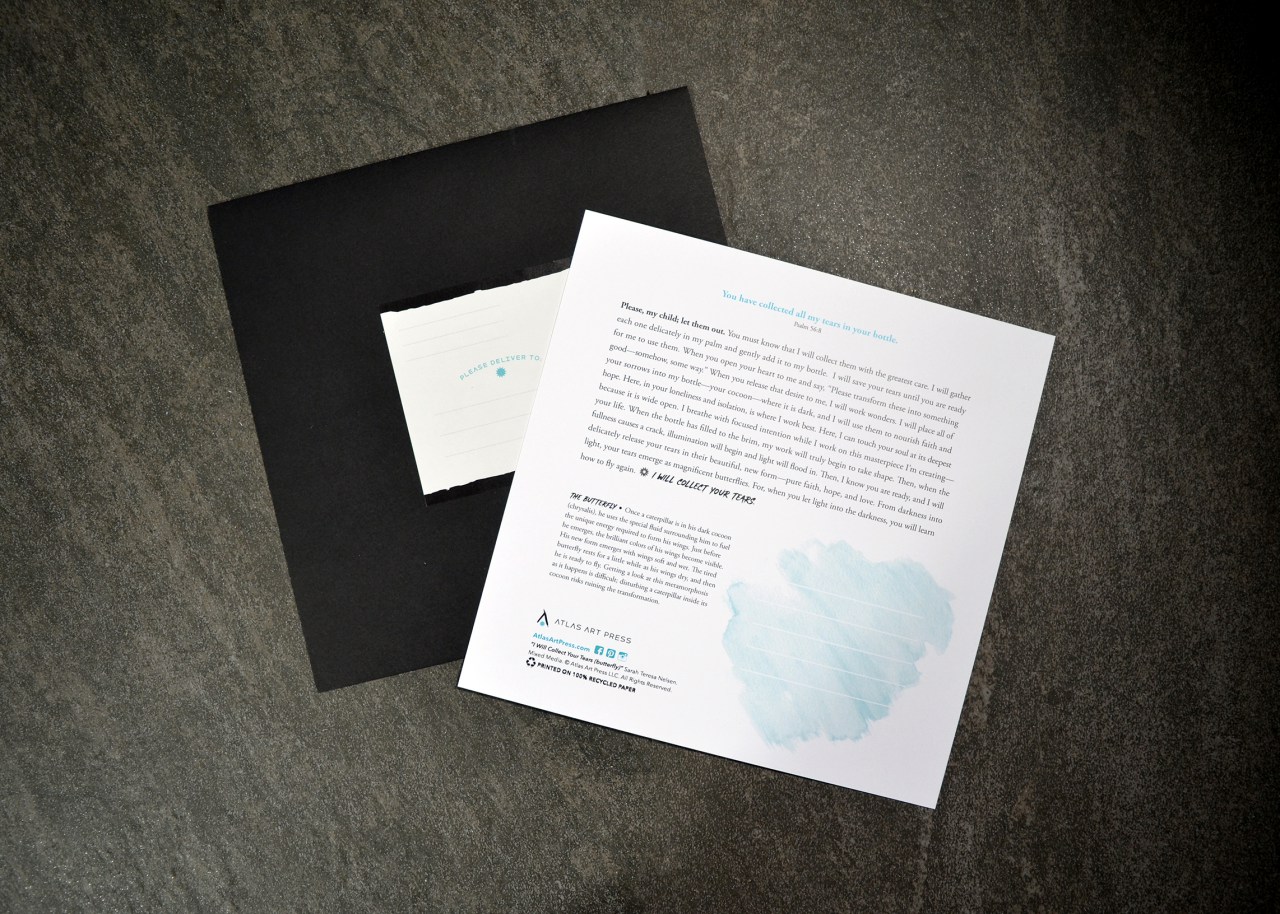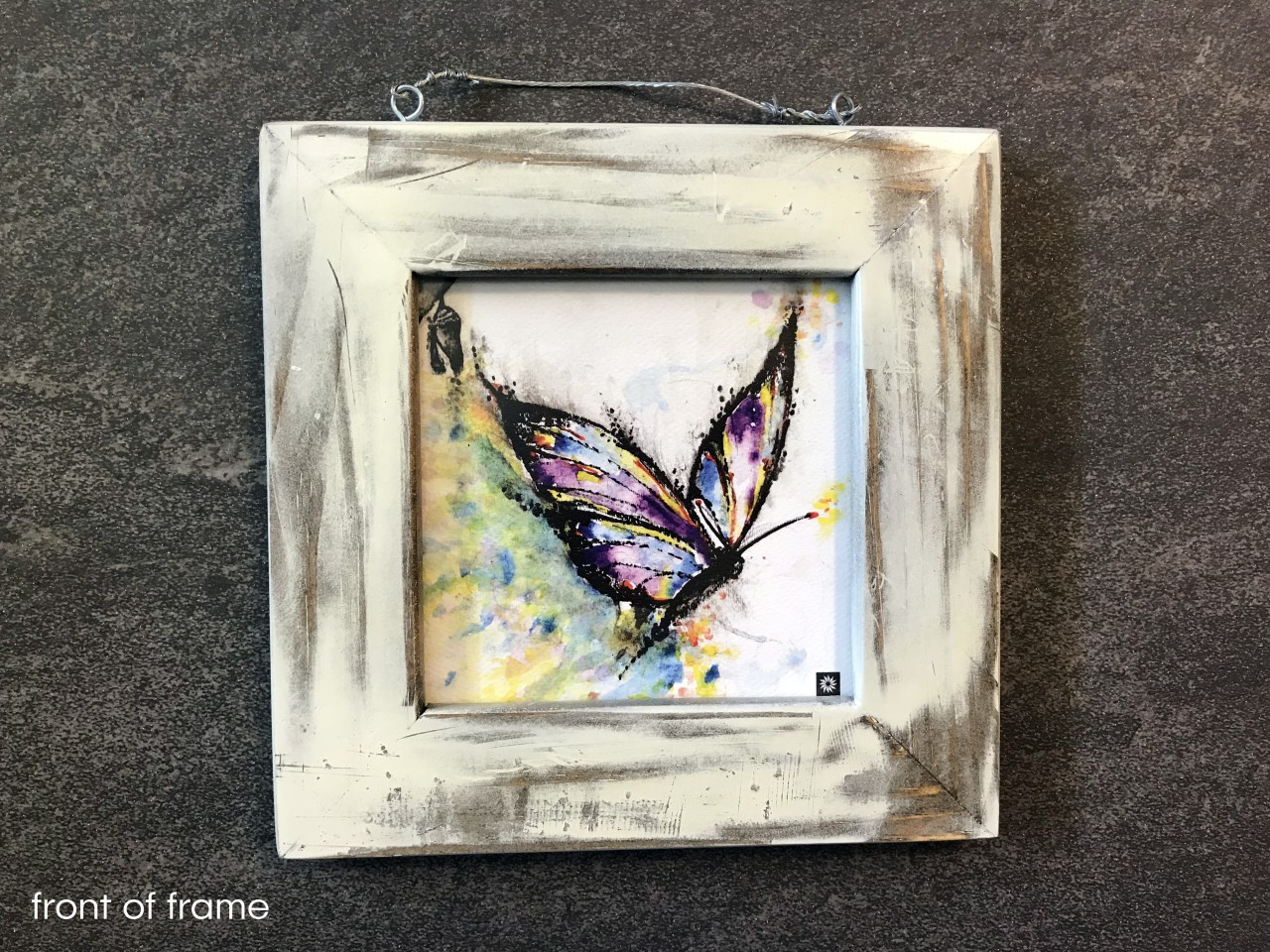 Butterfly "Collect Your Tears"
Art Print Greeting Card
"Please, my child; let them out."
PERFECT FOR: sudden an unexpected loss, trauma, loss of a loved one, depression, overcoming heartbreak.
Key Verse: You have collected all my tears in your bottle. Psalm 56:8 (NLT)
Original Art (front) and writing (back) by Sarah Teresa Nelsen—inspired by the sacred wisdom and truth of God's Word and presence in our lives.
• recycled paper
• printed on super thick 130# cover
• includes embossed silver foil seal
• signature black, square envelope
• archival quality
• 8.25 x 8.25″
• fits large Atlas Signature Frames
ABOUT THIS PIECE: The "Tear Collector" Butterfly was created for a couple good friends who had experienced a very tragic, sudden loss of a loved one. As our most popular piece, the "Tears to Butterfly" print inspires you to allow yourself to grieve and trust in the process to break through to hope and transformation.
TEXT ON BACK
(© Atlas Art Press llc. All rights reserved)
Meditation:
Please, my child; let them out. You must know that I will collect them with the greatest care. I will gather each one delicately in my palm and gently add it to my bottle. I will save your tears until you are ready for me to use them. When you open your heart to me and say, "Please transform these into something good—somehow, some way." When you release that desire to me, I will work wonders. I will place all of your sorrows into my bottle—your cocoon—where it is dark, and I will use them to nourish faith and hope. Here, in your loneliness and isolation, is where I work best. Here, I can touch your soul at its deepest because it is wide open. I breathe with focused intention while I work on this masterpiece I'm creating—your life. When the bottle has filled to the brim, my work will truly begin to take shape. Then, when the fullness causes a crack, illumination will begin and light will flood in. Then, I know you are ready, and I will delicately release your tears in their beautiful, new form—pure faith, hope, and love. From darkness into light, your tears emerge as magnificent butterflies. For, when you let light into the darkness, you will learn how to fly again. I will collect your tears.
Symbolism:
The butterfly • Once a caterpillar is in his dark cocoon (chrysalis), he uses the special fluid surrounding him to fuel the unique energy required to form his wings. Just before he emerges, the brilliant colors of his wings become visible. His new form emerges with wings soft and wet. The tired butterfly rests for a little while as his wings dry, and then he is ready to fly. Getting a look at this metamorphosis as it happens is difficult; disturbing a caterpillar inside its cocoon risks ruining the transformation.
©2018 Atlas Art Press llc. This card cannot be printed, copied, or reproduced for any purposes.
** It is important to note that colors may vary on different computer monitors. **
AVAILABLE IN THESE FORMATS
"Let your tears out" Butterfly Card
"I Will Collect Your Tears (butterfly)" (Let your tears out) Original art print card with message on back, envelope, seal, label.

PERFECT FOR: Grief & Unexpected Loss, Miscarriage, Infant Loss, Suicide, Allowing yourself to grieve, Patience & Waiting, Love & Forgiveness, Life Purpose & Self-Worth, Depression, Addiction, Anxiety & Stress, Courage & Strength
"Let your tears out" Butterfly Cards (SMALL)
"I Will Collect Your Tears (butterfly)" (Let your tears out) Original art print card with message on back, envelope, seal, label.

PERFECT FOR: Grief & Unexpected Loss, Miscarriage, Infant Loss, Suicide, Allowing yourself to grieve, Patience & Waiting, Love & Forgiveness, Life Purpose & Self-Worth, Depression, Addiction, Anxiety & Stress, Courage & Strength
10-pack, Small "Let your tears out" Butterfly Cards
"I Will Collect Your Tears (butterfly)" (Let your tears out) Original art print card

PERFECT FOR: Grief & Unexpected Loss, Miscarriage, Infant Loss, Suicide, Allowing yourself to grieve, Patience & Waiting, Love & Forgiveness, Life Purpose & Self-Worth, Depression, Addiction, Anxiety & Stress, Courage & Strength